On the road again...
We will be leaving Saturday for Nashville... YAHOO! Will be back late next week. Can't tell you how excited I am to be getting away for awhile.
The last couple of weeks have not gone quite as planned. I planned on doing a lot of blog reading but instead I've been sitting on the toilet with my head between my legs. Ended up spending most of Friday night and part of Saturday morning in the ER. I've had more tests then you can shake a stick at and there are more to come. My Doc thinks it may be my gallbladder or an ulcer... go figure. Whatever the hell it is it's very painful and scary. He put me on some meds that will hopefully help to get me through vacation, have to be very careful what I eat, and then more tests when I return.
So I'm hoping to get this all squared away soon and get on with things. I'm sorry I have not left any comments, it's not because I don't care what you have to say and it's certainly not because I don't want to add my two cents...lol. Just not enough time in the day to do everything I would like to.
Hope everyone has a great week and I will talk to y'all soon!
posted by Dorothy
at
12:55 PM
|

Charlie...
The Flashback saga will continue but I found it so depressing writing it that I can only write it in small doses or I will most definitely put myself in a funk. So in between that story I need to write about some good things and Charlie is definitely a good thing.
Before I was married I was a volunteer Emergency Medical Technician. I had to take classes twice a week for almost a year to get my EMT license. The first day I arrived at class I was pleasantly surprised to see a young, good looking paramedic was the instructor. His name was Charlie and we became good friends. The class was held about 60 miles north of me and Charlie lived 40 miles southwest of me. So we decided to car-pool. What I didn't know was he not only had a cool car but he had a motorcycle too. Many times we rode up to class on the motorcycle and it was great fun. I ended up with a 4.0 in the class and no I did not get any special treatment. We laugh about that now.
When the class was finished we kept in touch for a couple of years. He had become one of my salon clients and we went out for drinks on occasion. We never really dated but there was a little romance going on
Neither of us are really sure why but we lost touch with each other. Come to find out we both got married within months of each other. We didn't see each other again for over twenty years.
About a year before Steve and I separated I had run into a coworker of Charlies and I asked about him. He said that Charlie had gotten a divorce, had gone through some rough times but was doing good. Several months after Steve and I separated I was feeling lonely and decided a little companionship might be in order. So I put a profile on Match. I was overwhelmed by the responses I got and scared silly. Two days later I took my profile down and decided to try and find Charlie. It wasn't hard to find him, there his number was in the phone book and he was living only 16 miles away. Then I panicked and thought... what if he's remarried or surly he's seeing someone and I'm going to look like an IDIOT. Finally I got up the nerve to call and there was no answer, I didn't leave a message. A couple of weeks later I tried again with the same results. Then one Friday night I was sitting around depressed as old hell and decided to give it one more try. Finally he answered! I told him who I was (how embarrassing if he wouldn't have even remembered me) and asked him what he had been up to, his response was "looking for you". Talk about doing a dance, I think both of my feet came off the floor. We had lunch a couple of days later and he moved in this March.
He's a great guy, other than that golfing obsession (you know I love you babe despite that golfing thing...lol) and he and Chelsea get along wonderfully which is very important to me. We're all going on vacation to Nashville the end of the month. Chelsea's bring a friend and we're all looking very forward to it.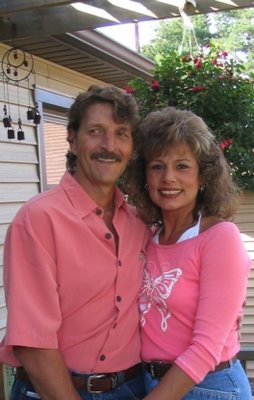 posted by Dorothy
at
10:36 AM
|

Flashback...
It's the second week of July 2004. We had just gotten back from the U.P., taking our usual family vacation over the 4th. This vacation was anything but usual though. The weather in Marquette was fierce. The winds were ferocious, it poured sheets of rain, and there were record lows. It never reached past 40 degrees the whole time we were there and with the winds and rain coming off the lake it was bone chilling. Lake Superior is a bitch, I can't find a better way to describe it. That lake has gobbled up more than it's share of ships and people including the legendary Edmund Fitzgerald. Gordon Lightfoot wrote a song about it "twas the witch of november come stealin", but this was July! It was an omen of things to come!!
I've always been big on gut instinct and my gut was telling me something was wrong, very wrong. Steve's personality was changing and it was changing at a rapid rate. We had always been a very close family, the three of us. More and more he was doing his own thing. Then he got the Harley. I've always enjoyed riding and he sold me on it by saying how much fun it would be and that we would do it as a family. That's the only reason I bought my bike, three of us weren't going to be riding on one bike. But it never went down that way. It was poker runs, bars, stupidity, and things I had not a clue about.
The weekend before we went on vacation we had gone on one of these poker runs. Basically what a poker run is, is a predesignated ride from one bar to another ending at the bar you started at. This one was a couple of hundred miles and we arrived back at our destination early evening. I was riding with Steve, a friend of ours whose bike had broken down was riding mine. A few of the group that we were with decided to go to another biker function which was about seventy miles away. The poker run ended about a mile from our house and Steve had been drinking but not heavily to this point. To make a long story short I did not want to go and he did. After assuring me he would not drink anymore the rest of the evening I agreed to go. Throughout the evening he polished off several shots of Yagermeister, drove home a hundred miles an hour, literally, down the e-way, while weaving in and out of his buddies who were acting just as asinine as he was. When we got home I was livid and told him I would never as long as I lived get on the back of his bike again or ride next to him and I never did! To be continued...
posted by Dorothy
at
1:19 PM
|

It's been a long time...
Over two years now since I last blogged and my life fell apart in an instant or should I say a mouse click. It's funny how you never think it's going to happen to you and then it does. Mid life brings out some very peculiar behavior in some, but then again I can't attribute his behavior to just a mid life crisis. It had to be more than that! So here my saga begins of how I was betrayed by the man I loved, my husband, the father of my child, my supposed soul mate. The divorce was final in December. It's been a trip but it's all good now.
I want to blog again! The past two years have given me a lifetime of blog posts and I'm sure I will share many of the sordid details here. I have so often thought of all of the great people that I had once blogged with. I wonder how their lives are going, if they're still blogging or if for some unforeseen circumstance they have just disappeared like I had. I know that I don't have nearly as much time to blog as I once did, now that I am a single working/mother/student but I hope to post at least a couple of times a week. Over the next couple of weeks I'm hoping to catch up with some of my old blogging pals.
posted by Dorothy
at
10:05 PM
|

Amante...
This little girl has brought more joy into my life than I could ever have imagined.
posted by Dorothy
at
8:16 PM
|